QFES Far Northern
What are we doing with Children's Hospital Foundation?
With almost 48,000 people in the QFES community, together we really CAN make a difference.
Together we are raising funds for life support machines called Extracorporeal Membrane Oxygenation (ECMO) Pumps. This lightweight equipment helps transport critically ill children from regional QLD to Queensland Children's Hospital.
Each machine is $132,000 and the hospital needs four … so let's see how far we can take this!!
You can take up the QFES Regional Challenge from now to the end of October and or sign up to Payroll Giving.  There will be special acknowledgement of the QFES commitment at the Channel Nine Telethon in November.
Happy FUN-raising QFES :)
What we have achieved so far in 2019
Check out the Gateway under Major Projects and Events to see who your regional Charity Champions are and contact them to see what events are in your region. If you would like to nominate as a regional Charity Champion email Partnerships@qfes.qld.gov.au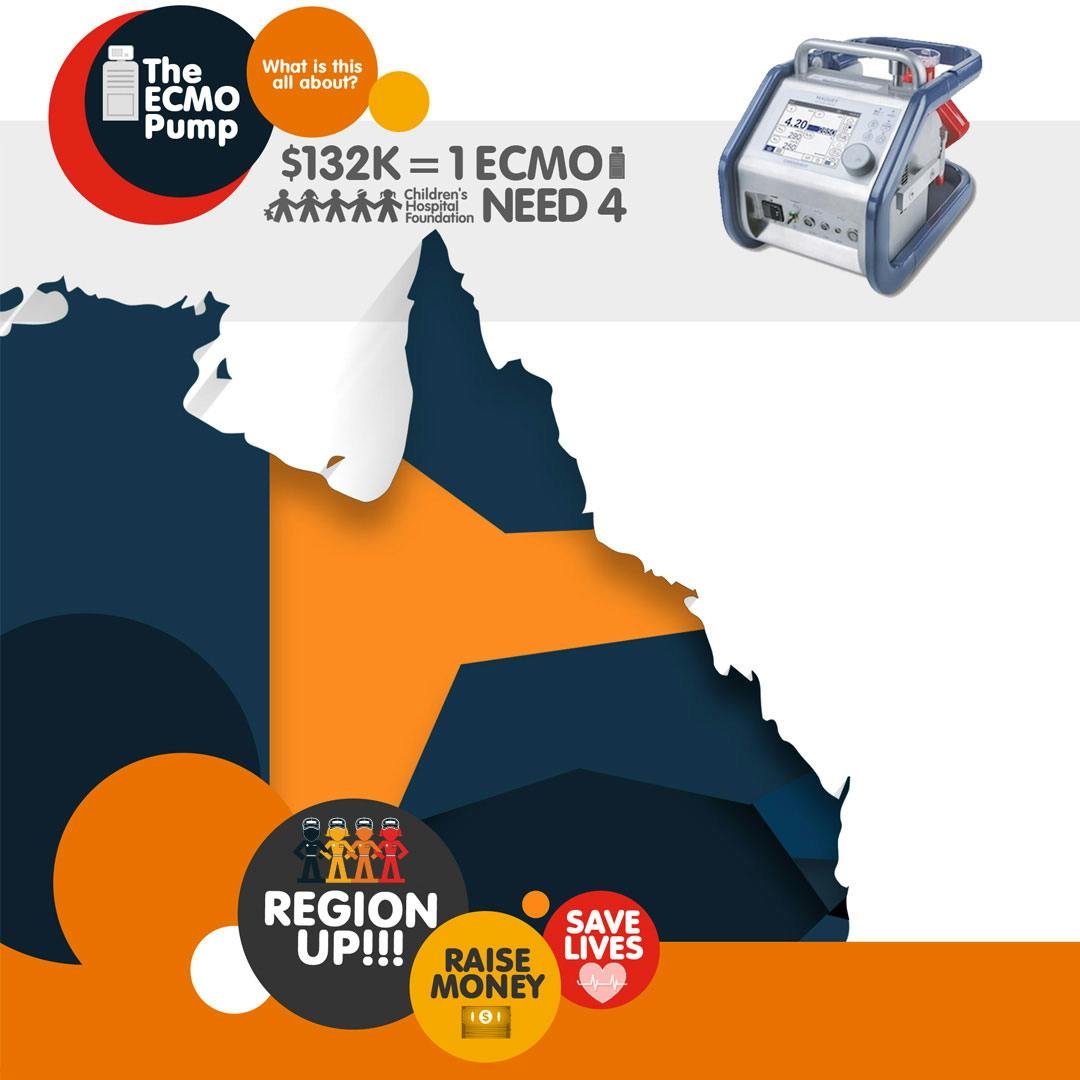 Xenios ECMO Pump
Extracorporeal Membrane Oxygenation (ECMO), also known as Extracorporeal Life Support (ECLS), is used to provide temporary heart and lung support to critically ill children. The ECMO circuit includes a pump (heart) which moves the blood, tubing which carries blood to and from the patient, and an oxygenator (lung), which enriches blood with oxygen while eliminating CO2.
The Xenios ECMO Pump is also significantly smaller and weighs only 5 kg (compared to our existing 25 kg pumps) making it an ideal solution for use with our new ECMO sled used to retrieve patients requiring ECMO from Rural and/or Regional Queensland for transport to Brisbane by ambulance, helicopter or plane, or for transport to Melbourne if they need a heart and/or lung transplant.
The Xenios ECMO Pump will impact the lives of some of Queensland's most critically ill children – those suffering from heart and/or lung failure – and help to give them the best possible chance for a successful recovery from a life-threatening condition.

What to do
Find a few Fundraising Champions among regional personnel, encouraging both staff and volunteers to help out for this short-term FUN-raising action!
Check out our main page for FUN-raising ideas and help the regional Champions to organise a couple of events between June and November.
Check out our main page for how to deposit and where to deposit (hint…it's through Westpac).
Remember to use your REFERENCE CODE, which is 2498723 for Far Northern.
Remember to EMAIL your deposit details, along with some event information and a photo or two.
…and don't forget some social media using @childrensorgau #workingwonders @QldFireandRescueService @QldFES @QldFire and posts on regional pages
Patient stories
Select a patient below to read their story.
FUN-raising ideas
There are so many opportunities for QFES Peeps to collect donations and you can really have FUN with this! Make sure you take some snaps and send them to leah.hornibrook@qfes.qld.gov.au.
To get the ball rolling:
Sausage sizzle here there and everywhere!
Shake a tin while you are out and about.
Open the station/shed/brigade in your community - sell some home baking and set up a collection tin.
Hold a stall at your local community or school event.
Match your footy tips and donate to your region …. OR double them ;0
Around the world lunch – celebrate your cultural heritage and bring a plate.
A good old raffle or guess the jelly beans always works a treat.
'Frock it up Friday' with entry fee – theme it up and judge at morning tea.
'Frock it up Friday' Ideas:
- Black and white out - All black, all white or mix it up.
- One colour coordinated - Who can dress completely in one colour? 
- Double denim day - Universal appeal. 
- Funny hat Friday - Everyone has a favourite hat.
- Sock off - Time to get out those craaaaaazy socks.
- Best belt buckle - These opportunities don't come often so buckle up!
Make your QFES Peeps team
Sign up to Payroll Giving